"If you read only one book on the subject, it should be "Eight Years to the Moon" —

Twin Cities Pioneer Press
"Atkinson's book is one of the best books published on Apollo" —

Science magazine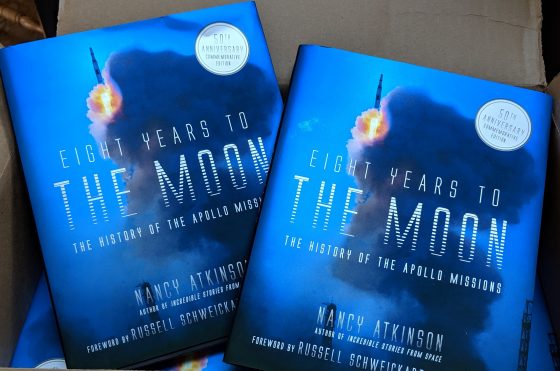 In July of 1969, three astronauts set off on an historic mission to land on the moon. Now, 50 years later, a new book celebrates the achievement of the Apollo missions, detailing an incredible period of science and engineering history.

Eight Years to the Moon: The History of the Apollo Missions tells the unique personal stories of over 60 engineers and scientists who worked behind the scenes to make the Apollo program possible. The eight years from President Kennedy's challenge in 1961 to the first Moon landing in 1969 are filled with stories of the dedication and perseverance it took to overcome the challenges, hurdles and conflicts of doing things that had never been done before. The stories are fun, heart-warming and heart-breaking and they provide a glimpse into the lives of some of the hundreds of thousands of people who made it possible to land humans on the Moon.
The book includes a foreword by Apollo 9 astronaut Russell "Rusty" Schweickart.
Eight Years to the Moon is available at:
or check with your local bookstore to order!

Unique stories come from people like Henry Pohl (director of engineering at Johnson Space Center),Glynn Lunney and Gerry Griffin (Apollo flight directors), Frank Hughes(lead test engineer for the Apollo command and lunar module simulators), and Bill Widnall (MIT computer expert).
There are also stories from two of the very few women engineers at NASA during the 1960's (Dottie Lee and Catherine Osgood) and one of the few African American engineers (Earle Kyle) at Honeywell, one of the Apollo contractor companies.

With Atkinson's engaging style, it's easy to get wrapped up in the excitement of that era. In the words of Henry Pohl when he saw his first rocket test launch, "When that thing lit off, I had never seen such power in my life…I decided right then and there that's what I wanted to be part of…" And he was far from alone.

Through interviews and research, Atkinson uncovers little-known details about the Apollo program, including a potentially catastrophic event that could have ended the Apollo 11 mission in disaster.
Filled with insights from dozens of Apollo experts, Eight Years to the Moon is a book that will delight anyone who has ever looked up at the Moon and wondered how we got there.
Praise for "Eight Years to the Moon"
"Hundreds of thousands of unsung heroes were part of the Apollo program to reach the Moon, and Nancy Atkinson has meticulously researched and written about many of them here. She's a great storyteller and happily, Eight Years to the Moon takes us behind the scenes to many places we've never been before!"
―Peter King, correspondent, CBS News Radio Orlando/Kennedy Space Center
"Atkinson has seamlessly woven the stories of hidden figures and forgotten linchpins into a narrative that lets readers live through the missions."
―Sarah Scoles, science journalist and author of Making Contact: Jill Tarter and the Search for Extraterrestrial Intelligence
"Atkinson has achieved the nearly impossible task of writing a truly original and engaging narrative of the Apollo program, with little-known and rarely told details of what it took to put humans on the Moon. Highly recommended."
―Rod Pyle, space author, journalist and Editor-In-Chief, Ad Astra magazine
"Of nearly 400,000 people who worked on Project Apollo, we hear mostly about the handful of Apollo astronauts whose names will survive centuries into the future. But in this fascinating book, Nancy Atkinson introduces us to dozens of people, many of them engineers, who didn't make national headlines, yet were absolutely vital to the program. Her writing is based on an extensive collection of interviews that she conducted with many of the protagonists themselves, or with people who remembered them. Avoiding technical language, Nancy presents a captivating, behind-the-scenes history of Project Apollo that you will have trouble putting down."―David Warmflash, MD, author of Moon: An Illustrated History: From Ancient Myths to the Colonies of Tomorrow