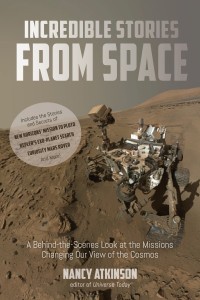 Incredible Stories From Space: A Behind-the-Scenes Look at the Missions Changing Our View of the Cosmos
In INCREDIBLE STORIES FROM SPACE, veteran space journalist Nancy Atkinson shares compelling insights from over 35 NASA scientists and engineers, taking readers behind the scenes of the unmanned missions that are transforming our understanding of the solar system and beyond.
Weaving together one-on-one interviews along with the extraordinary sagas of the spacecraft themselves, this book chronicles the struggles and triumphs of nine current space missions and captures the true spirit of exploration and discovery. Full color images throughout reveal exciting scientific discoveries and the stunning, breathtaking views of our universe, sent back to Earth by our robotic emissaries to the cosmos.
From the first-ever mission to Pluto to the unprecedented hunt for planets outside our solar system, readers will journey along with missions like New Horizons, Kepler, the Curiosity Mars rover, and the iconic Hubble Space Telescope as they unlock the mysteries of the universe. Learn more about the latest findings in our solar system with the Cassini mission to Saturn, Dawn's visit to the asteroid belt, the Solar Dynamics Observatory, and the Mars and Lunar Reconnaissance Orbiters. Explore the future of space exploration with a preview of upcoming missions.
INCREDIBLE STORIES FROM SPACE provides a detailed look at current and future missions and will appeal to both seasoned space exploration enthusiasts and those with just a casual interest in our journeys to space.
Incredible Stories From Space is available at:
Amazon
Barnes and Noble
IndieBound
Books-A-Million
Early Praise for Incredible Stories from Space
"Bravo, what a great read! The chapter on New Horizons left me teary-eyed." —Alan Stern, Principal Investigator, New Horizons Pluto-Kuiper Belt mission
"Incredible stories are indeed coming from space these days, but as Nancy Atkinson delightfully shows, the most incredible stories are of the people on the ground who send these robot emissaries on their missions. Atkinson weaves together their stories with the scientific discoveries in a virtually complete who's-who (and what's-what) of our presence beyond Earth." – Mike Brown, Caltech astronomer and author of How I Killed Pluto and Why It Had It Coming
"Get ready for a journey you will never forget! From the wonders of our own solar system to the hunt for Earthlike worlds around other stars, from our Sun's nuclear furnace to the beauty of distant stars and galaxies, Nancy Atkinson describes all the amazing stories and discoveries on these pages. — Andrew Chaikin, author of A Man on the Moon
"I've had the privilege of working side-by-side with Nancy Atkinson for over decade now. Incredible Stories from Space demonstrates the depth of her knowledge and her easy, accessible writing style." — Fraser Cain, Publisher, Universe Today
"The latest generation of space explorers aren't being born, they are being built. Nancy Atkinson introduces you to a handful of these rising stars, and tells their stories through detailed interviews and an engrossing personal narrative. Make her passion your own, and travel between the planets inside these pages." — Dr. Pamela Gay, Astronomy Cast
"Space exploration represents the best of humanity, and it seems only right that we should chronicle our brave space robots' silicon sacrifices and the passionate scientists and engineers behind them. To do this we need an expert storyteller, one who has reported for years on their voyages. Nancy is that storyteller and in "Incredible Stories from Space" she not only gives us a brilliant behind-the-scenes glimpse into what these amazing missions mean to her, she beautifully describes the historic science discoveries that are being made, right now, by our selfless robots journeying into the solar system and beyond." — Ian O'Neill, Senior Producer for Space, Discovery News