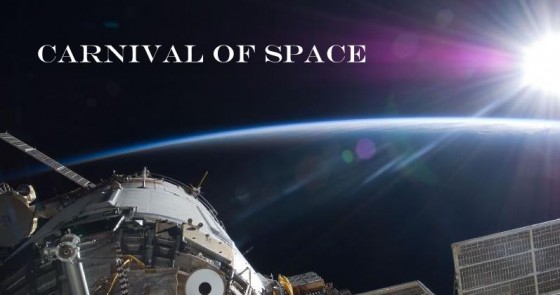 Welcome to the 138th Carnival of Space!  And welcome to my humble little, brand new blog.  You can read my first-ever post here to find out why I started a blog, despite my other day jobs that keep me pretty busy.  And you're probably wondering how a website that's only three days old gets to host the biggest, best and most marvelous Carnival on the web!  Well, it helps to have an "in" with the Carnival Master.  Thanks, Fraser!
My first attempt at putting together the Carnival of Space has been a blast, and I've found there are two advantages to hosting the CoS:  One, it makes it really easy to remember to send in an entry.  And two, it has made me realize what a great community of writers and bloggers we have covering space exploration, astronomy and technology on the web.  Plus, I have had the great honor of working with or meeting (if only virtually) many of the wonderful folks listed below.  So, here we go, off to the Carnival!:
One of my earliest Twitter pals, Carolyn Collins Petersen, a.k.a the Spacewriter went to see the new movie, "Avatar," which prompted her to write about Alien Worlds in SciFi Movies.

Another good "mate" is Stu Atkinson — the guy with the great last name (and incredibly creative digital image editing skills) — and he is following the travels of the Opportunity rover on one of his blogs, Road to Endeavour.  His latest post explains exactly where Oppy is these days.
My mentor and friend, Phil Plait, who I've actually met a couple of times IRL, writes on his Bad Astronomy blog about the new opportunity to make suggestions for pointing the HiRISE camera, and asks What Do you Want to See On Mars?

Speaking of HiRISE, Alice Enevoldsen at Alice's Astro Info, has great post about Dunes on Mars – New Images from HiRISE , which includes some wonderful information and images on dunes and how they form.
At Steve's Astro Corner, Stephen Tilford provides some great tips on how to do Astronomy on a Budget
Everyone loves space collectibles, and Robert Pearlman at CollectSPACE writes about a new mission patch created for everyone's favorite space toy — which has actually traveled to the space staion:   To the ISS and beyond! Disney picks Buzz Lightyear patch to fly to space station
Another friend and 365 Days of Astronomy collaborator, Davin Flateau at The Perfect Silence (one of the more aesthetically pleasing blogs on the net, by the way) writes about a hot topic for the past couple of years, the state of planethood. In  "The Planet Killers"  Davin says "Sometimes, the best thing for planets is to kill them, as Mike Brown and George Gatewood have shown us, much to the dismay of astronomer Peter van de Kamp and schoolchildren everywhere."
The Noisy Astronomer, Nicole Gugliuicci, has a great overview of what she found out at the AAS meeting about the Allen Telescope Array. I'll also do a promo bit on Nicole's upcoming podcast on the 365 Days of Astronomy:  on Feb. 6, 2010, she'll be doing a very informative podcast about the Very Large Array, which is getting larger.
Niall from We Are All In the Gutter (Looking up at the stars), which has to be one of the most original and creative astronomy blog names ever, writes about some weird objects found by the Kepler telescope.
Steve Nerlich, who I'm happy to say has joined the team of writers at Universe Today (and whose prolific podcasts we've come to depend on at 365 Days of Astronomy) offers up a podcast on spacecraft navigation at his Cheap Astronomy website.
Another person who writes occasionally for Universe Today is variable star guru, Slacker Astronomer, and all-around funny guy Mike Simonsen.  On his own blog, Simostronomy, he writes about astronomer Friedrich Wilhelm August Argelander. Mike also did a podcast about Argelander for 365 Days of Astronomy on January 24.  My favorite line:  "You just know this guy is important because he has four names!"
Brian Wang at the Next Big Future provides info about Quicklaunch orbital launch system with several screenshots and key points from a recent one-hour Google talk. Brian says, "I think it also happens to provide proof that my nuclear cannon version of Project Orion has projectile configurations that would work."
Paul Gilster from Centauri Dreams sends "Icarus: The Motivations for Fusion"  which discusses Project Icarus, the attempt to re-examine the Project Daedalus starship study of the 1970s, and focuses on the team's decision to stick with some form of fusion as the best choice for propulsion.
Want to know about black holes?  Chris from WeirdWarp has a great post this week:  Black Hole Startling Facts, Questions and Answers
David Gamey at Mang's Bat Page has information about the Astronomy and Space Exploration Society (ASX), which is holding the 7th annual "Expanding Canada's Frontiers" Symposium. He also sent a link for more information about the symposium.
Jason Perry from the always fascinating Gish Bar Times website provides an article on the discovery of an induced magnetic field at Jupiter's moon Io and its implications for the physical state of Io's mantle.
Have you ever wondered what some of our favorite constellations look like under alien skies? Or, how far away would we have to go before they are unrecognisable? Ian Musgrave at Astroblog has a thought-provoking post on "The Southern Cross from Other Planets."
DJ at Orbital Hub has a post he calls "Sentinel" which gives a great overview of the European Union's Global Monitoring for Environment and Security (GMES) initiative.  He says, "It was born as the result of a growing need for accurate and accessible information about the environment, the effects of climate change, and civil security. GMES uses as its main information feed the data collected by satellites developed by ESA."
A beautiful image of the Cat's Paw Nebula released last week came from the ESO, and Bente Lilja Bye provides a personal look at the image on her PlanetBye blog.
And last, I offer one of my posts on Universe Today last week, about NASA's new personal aircraft, called the Puffin. Forget jetpacks or flying cars — I want my own personal stealth aircraft!
Thanks everyone for visiting my new website for the Carnival!  While you're here, take a look around — I hope you enjoy my new site.