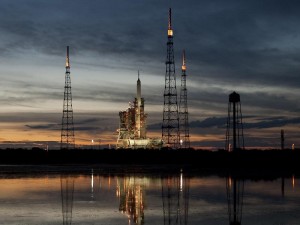 Welcome to my new blog! Nancy here, writing my first post on my brand-spanking new website. I've had a personal website for a couple of years, highlighting the writing I do for Universe Today and other sites, as well as sharing info about the other projects I'm involved with, but I have never had a personal blog. But several months ago my friend, mentor and boss, Fraser Cain — the publisher of Universe Today — casually mentioned that I should add a blog to my website. And I've been thinking about it ever since. The impetus for doing this now is that I'll soon be off on an adventure to cover several launches at Kennedy Space Center. While I'll be able to write about this for Universe Today, there might be other things I get to see and do that might not be newsworthy enough for an article on one of the most popular space and astronomy news websites in the world!
But I still might want to write about them. So here I am now at my own blog. I can't guarantee that I'll post regularly to this site, as my three jobs with Universe Today, Astronomy Cast and 365 Days of Astronomy keep me pretty busy. There are still a few maintenance issues I need to do on the site, so its not quite perfect yet.
Most of the information from my old site can be found on the tabs above: links to some of what I consider my "best" articles, the various book and movie reviews I've written (sorry that's not complete yet now done!), info about the Solar System Ambassador program, as well as how to get in touch with me.
After browsing through the plethora of marvelous WordPress themes, I chose this one, Desk Space, which seems appropriate since every day I sit at a desk and write about space. The permanent stain at the top of the page is fitting, since I am never without a cup of tea by my computer, usually in my NASA mug.
So, here I go. I hope you enjoy whatever I have to say!