Book Release Day: December 20
Excellent book for the space fan on your list: https://t.co/rJZnXYMWcN @Nancy_A pic.twitter.com/fiU9CQi5JT

— Chris Hadfield (@Cmdr_Hadfield) December 20, 2016
December 20 is the date I had been looking forward to for quite some time. After the delay in publishing the book from the originally planned date of Nov. 15, it seemed a long time in coming!
Because of the delay in the pub date, we had decided not to hold a "book launch" event on the release date because of the proximity to the holidays. Everyone just has so much going on the week before Christmas, and so I didn't want to add another event on the already busy calendars of friends and family. So, I knew the day would be relatively quiet — at least personally — without an event to attend. My husband did take me out to dinner, however, at the Minneapolis landmark, Murrays. It was wonderful!
The day started off with two very positive reviews on space-related websites SpaceRef and Space Flight Insider, and quite a bit of buzz on social media (at least in my circles!) The highlight was when former astronaut Chris Hadfield (1.8 million followers) Tweeted a recommendation for the book, saying "Excellent book for the space fan on your list" with a link to the book on my website. What a thrill! It was fun responding to all the comments, too!
Then, fellow space journalist and friend Emily Lakdawalla pointed out to me that "Incredible Stories" was listed as the "#1 New Release in Astronomy and Astrophysics!"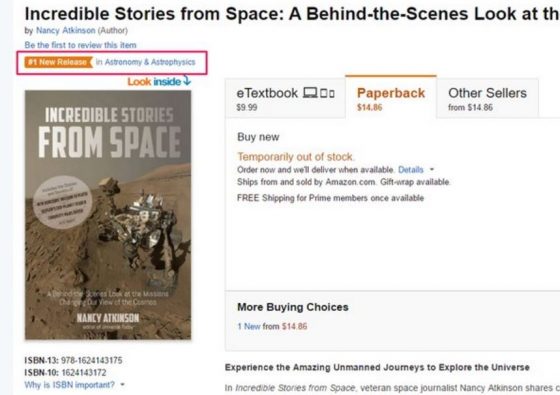 The excitement of the day was tempered somewhat when I realized the online book sellers had the book listed as "temporarily out of stock." It seems a glitch at Macmillan's warehouse caused a delay in getting the books to their destinations. So the book wasn't in stores or available to be shipped to those who had pre-ordered. While I tried to remain positive, I was disappointed to be sure, not to mention feeling a little snake-bit after this second delay in the distribution of the books.
Again, friends and family came to the rescue, posting positive feedback and comments on social media and sending text messages of support.
As of this writing, "Incredible Stories From Space" continues to hold a spot near the top of the "Hot New Releases," so again, I'm incredibly grateful and thankful for all the support and interest in the book.