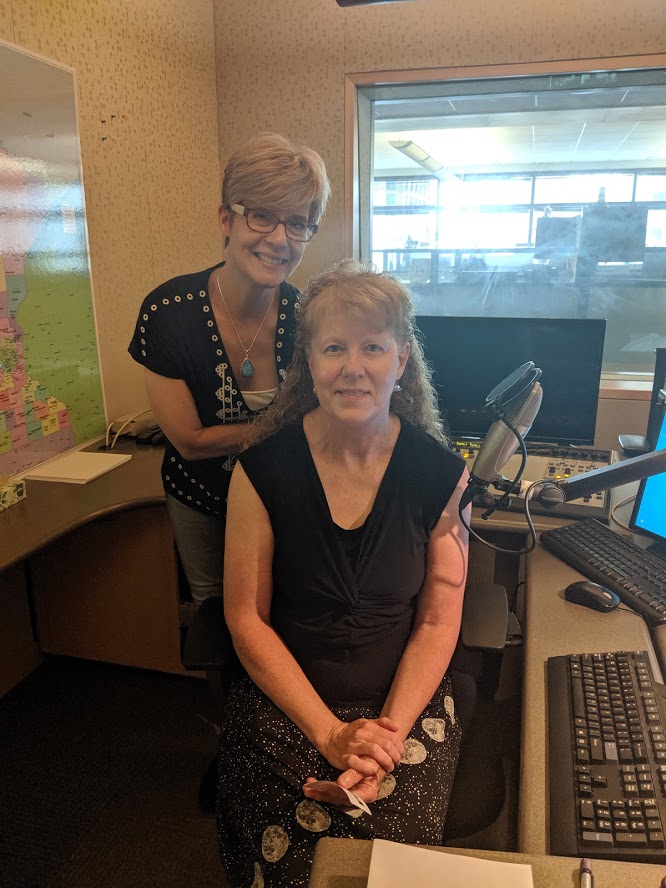 It's Morning Edition!
What is better than listening to your favorite radio show host? Being in-studio, chatting with her face-to-face! What a wonderful experience to sit with Minnesota Public Radio's Cathy Wurzer, host of MPR's Morning Edition and talk about the Apollo program and "Eight Years to the Moon!"
I've always listened to public radio, and even when I lived in Illinois, I would tune-in online to listen to the news from my 'home' state of Minnesota. And I especially have always enjoyed listening to the award-winning Cathy Wurzer. I love how she shares stories with her listeners — her interviews really bring the personal side of news and stories to light.
And so it was an honor to be interviewed by Cathy! She was so warm and inviting as soon as I stepped into the studio, and she asked such great questions. You can listen to our interview here: New book by Minnesota author goes behind the scenes of the Apollo program.
Also, the previous week, I was in-studio at the Collegeville, Minnesota station, KNSR, to chat (again! I was on the show in 2017) via T-1 line with Maine Public Radio's "Maine Calling" show. Host Jennifer Rooks chatted with me, Maine Public Radio's Irwin Gratz and Shawn Laatsch, director, Emera Astronomy Center, University of Maine about the 50th anniversary of Apollo 11. Listeners called in with great questions and comments. You can listen to the show here: Moon Landing: Marking 50 Years Since the Apollo Mission Put a Man on the Moon
My thanks to Gary Osberg at the Collegeville station for acting as producer/soundboard person and for the great conversation about the 1960's.