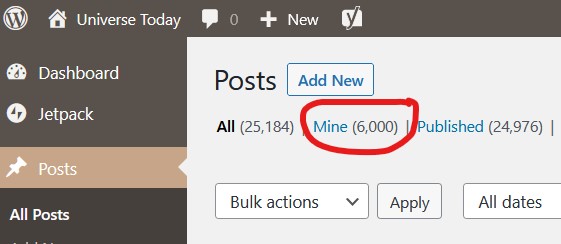 Over 6,000 Articles Published!
On October 25, 2022, I hit a fairly big personal and professional milestone … I published my 6,000th article on Universe Today! I've been writing for UT since November of 2004, so almost exactly 18 years.
Early this year, I happened to look at my tally number on UT's WordPress (see image above) and noticed I was less than 150 articles away from reaching 6,000. I can honestly say I don't recall when I hit 5,000 — I guess I wasn't paying attention! Article number 6,000 was about an image collaboration between Hubble and the James Webb Space Telescope, which is fitting for a milestone article, as I've been writing about both those telescopes my entire career.
Over the years, I've had the chance to interview so many amazing people and write about so many fascinating topics for Universe Today – from how challenging it is going to be to land human-sized payloads on Mars (JPL's Rob Manning,) to why we need to be prepared for an asteroid that might hit Earth (Apollo astronaut Rusty Schweickart), to some of the crazy but intriguing ideas from the NASA Innovative Advance Concepts program.
I'm also not sure how many articles I've written in total, as I've had the opportunity to write for several different online outlets, newspapers and magazines since I started writing in 1999.
But many thanks to my friend and boss Fraser Cain for making it all so much fun at Universe Today! Here's to 6,000 more!