Book Update: Houston, We've Had a Problem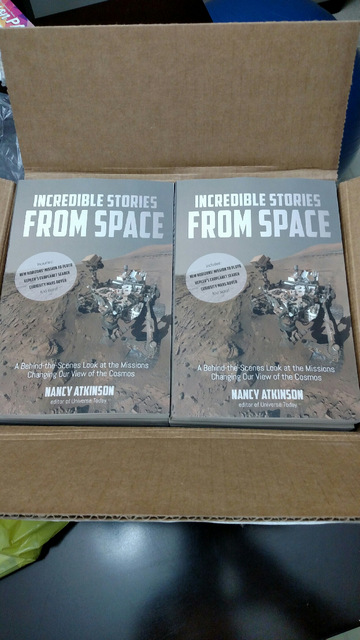 I have some good news and some bad news about my upcoming book, "Incredible Stories From Space: A Behind-the-Scenes Look at the Missions Changing Our View of the Cosmos."
The good news is that I received a box of the books, which is certainly an exciting moment in the life of anyone who has written a book!
The bad news is, a problem was discovered.
During production, a "very rare" (according to my publisher) font corruption problem occurred and it wasn't detected until after the book was printed.
A note from Page Street's editor-in-chief Will Kiester explains that what happened is a font got corrupted in the color reproduction phase. "However, we don't as a matter of course reread the book by then (nor does any other publisher as far as I know)," he said. "It's a rarity and not something expected. For example, this is the first time this has happened to me in my 25 year career."
Therefore, the books will need to be reprinted, which will delay the originally planned release date of November 15. As of yet, I don't have a firm new date for the release, but I'm trusting (hoping) that it will be sometime in December. I will definitely provide updates here and on social media.
Murphy's law? Nothing good ever comes easy? Feel free to leave me some good quotes/positive thoughts!
While this delay in my book 'launch' is certainly disappointing, I'm hoping I can later look back on this as just a bump in the road, a hurdle to be crossed, just as many of the missions I wrote about in the book had to overcome obstacles to get launched to space.
Thanks, everyone!