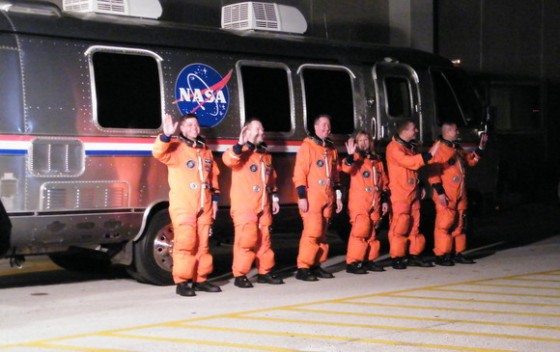 UPDATE: You've likely heard, but the launch was scrubbed just 9 minutes before scheduled liftoff due to low clouds. But enjoy the pictures of my all-nighter in the KSC press area. But here's what I posted from the KSC press room at about 2:00 a.m.:
We're at T- 2 hours and counting. The press corp just returned from the crew walkout, which was very fun to see in person. Lots of cheering for the crew of STS-130. It's a cold and windy night here at KSC — I'm seeing Twitter messages that people here to watch the launch are cold out there, but are having too much fun to care. Same here. I wouldn't care if it was snowing; although there wouldn't be a launch tonight if it was.

We're watching the crew ingress the shuttle (via NASA TV). If you read my last post here, I talked about how quiet it was at Kennedy Space Center on Tuesday. Yesterday and today was a complete change, and tonight things are bustling with activity. Here's a shot of the press room right now: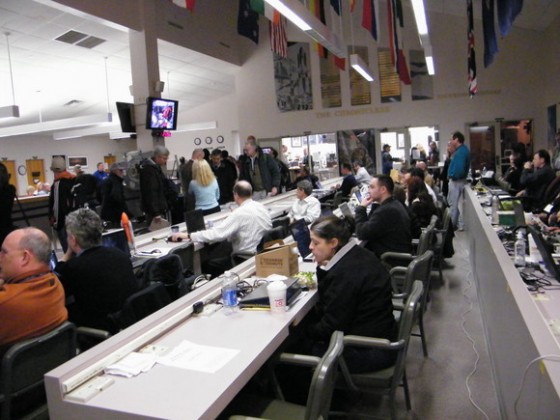 And here's one of me (taken by my photographer, Rick) working diligently at my computer (must…type…faster…):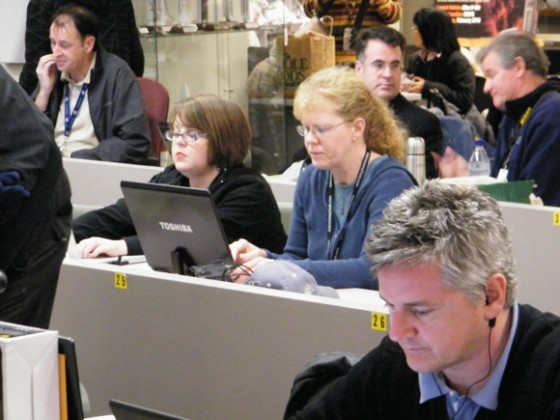 And I've met a few notables tonight: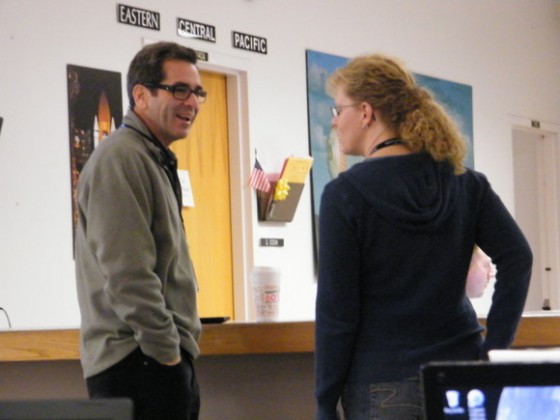 Miles O'Brien, former CNN anchor and space reporter extraordinaire.
And Camilla, the official unofficial mascot of the Solar Dynamics Observatory mission, which will be launching in a couple of days (hopefully.) Very excited to meet and hold Camilla, as she is one of my Facebook friends! Camilla is looking quite dapper in her warm sweater, while I am looking bleary (it was 2 a.m.) and windblown. Windblown was a fashion statement saying, "I was outside braving the cold and wind, dagnappit!"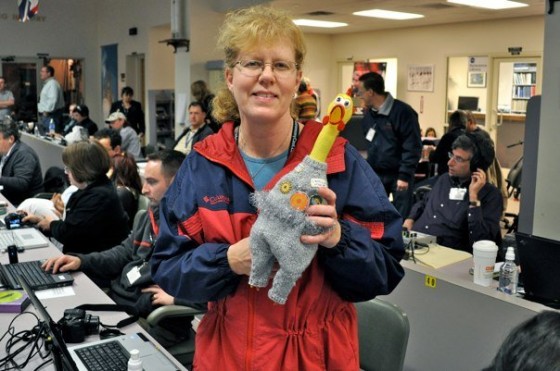 Here's what it looks like outside with all the TV trucks: (NASA image)


I just went outside to take pictures of the launchpad at night, but they didn't turn out very good. Here's one: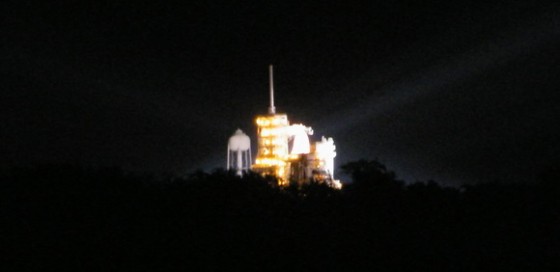 More fun stuff to come, I'm sure!
And if you didn't see the video I posted on Universe Today of the RSS rollback, here it is. Watch space shuttle Endeavour appear before your eyes as the Rotating Service Structure (which protects the shuttle from weather and has to be moved before launch) is rotated away from the orbiter: