At a Quiet Kennedy Space Center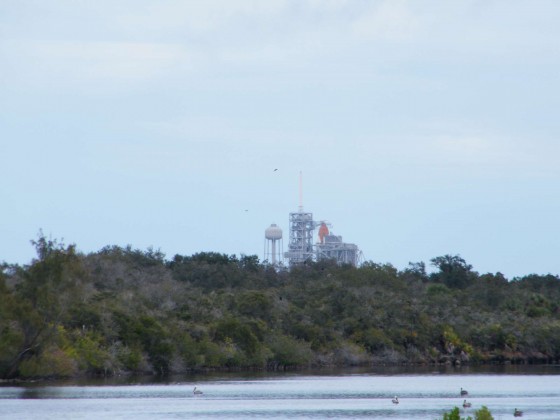 Space Shuttle Endeavour on the launchpad enshrouded by the Rotating Service Structure. Image: Nancy Atkinson
It was a little eerie and not quite what I was expecting. Nobody was there.
I went to the Kennedy Space Center on Tuesday for my first visit as a member of the media. Driving there, I was in space-nerd heaven, with butterflies in my stomach. As I came onto the property the thing that struck me most is that everything there is big. First, when you turn onto the NASA Causeway, you drive by the Astronaut Hall of Fame with an actual-size shuttle replica out front. It's big. Then you drive, … and drive, passing through the open expanse of the Merritt Island Wildlife Refuge. Finally you pass by the KSC visitor's center which is huge; outside is another big shuttle replica, and actual-huge-sized shuttle fuel tank and SRB replicas, along with other rockets (big and small) standing guard.

Then the folks at the badging center sent me on a bit of a wild goose chase so I got to drive some more and see just how big the property is; and I'm sure I didn't see the half of it. And most of it is big, wide open space, with lots of Florida brush and wildlife.
Finally, I made it, official badge in hand, through the official gate, drove some more and approached the VAB (Vehicle Assembly Building) which is the largest one-story building in the world, the largest building in the US outside of an urban area, and the fourth largest building overall in the world. Yep. It's big.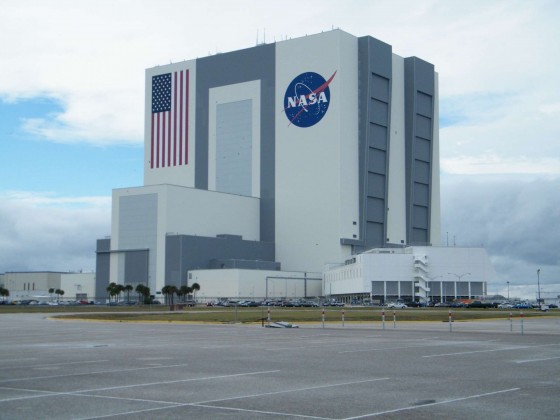 I made it to the Press Area and the KSC auditorium just in time for the news conference. I had to rush inside so didn't get a chance to look around much. (Thanks to the Orlando Fox News station guys for leading the way!)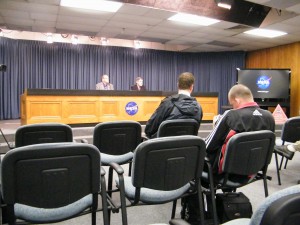 It was small. Just a few reporters there (I should note there were more reporters there than what is shown in ths picture above!) Still, I was in space-nerd heaven and the butterflies were still there. And one of my heroes, Bob Cabana (who is from my beloved Minnesota) talked about the changes coming NASA's way — and particularly KSC's way — because of the proposed cancellation of Constellation. That's pretty big.
Afterwards, I walked out and realized where I was. If I walked just a little bit farther, I would be in the place I have always dreamed of being, and especially so since last fall when I decided come to cover a launch: the press launch viewing area.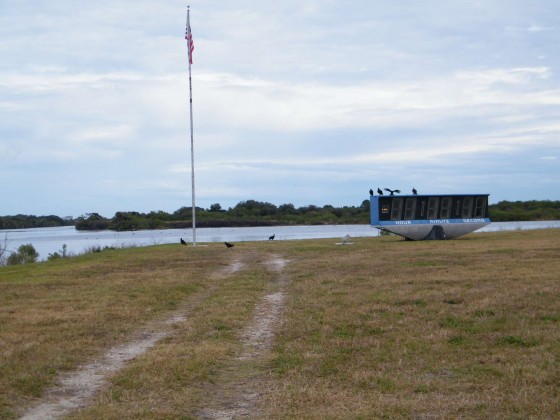 It wasn't big, pompous and grand. It was just there. No one else was around, and I walked out all by myself. It was so, so quiet. It was a moment I won't forget.
I was expecting the first time I would be there the place would be alive with action; but with arriving several days before launch, not a lot was going on. The countdown clock wasn't even ticking yet. I kept thinking, 'maybe I shouldn't really be here.' But the buzzards atop the big digital clock were the only ones who gave me a second look.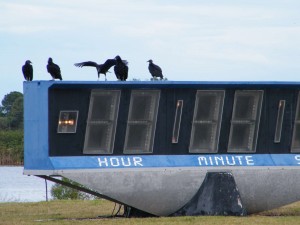 If I squinted hard, I could see space shuttle Endeavour sitting on launchpad 39A, three miles away, and barely visible because the Rotating Service Structure was enshrouding it. But wow, there it was.
To the left was 39B, newly configured for the Ares rocket that may never fly again.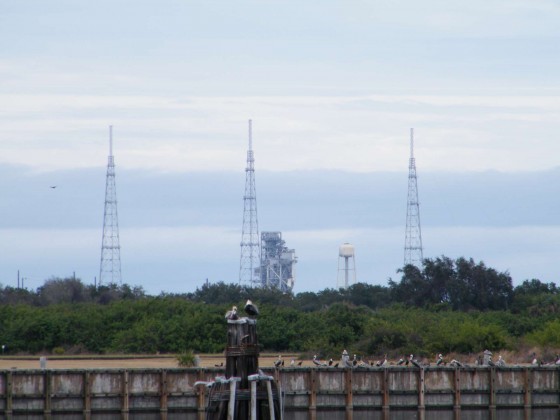 It was a big day. And it was only the first day!
More to come….