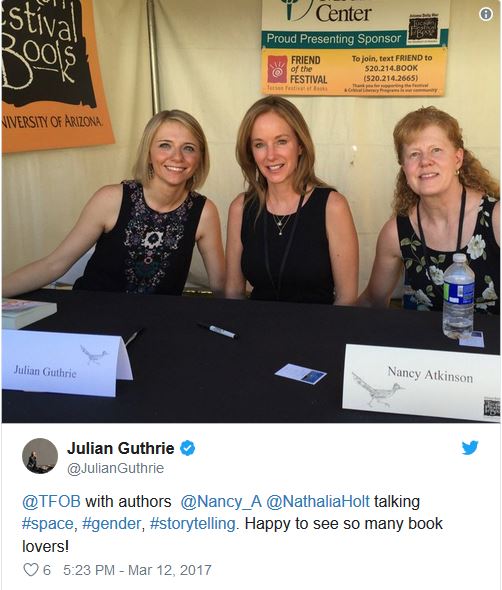 Incredible Stories From the Tucson Festival of Books!
Although I'm still a bit groggy after taking a red-eye flight home, I've been completely energized by my experiences this past weekend at the Tucson Festival of Books. What an amazing event and an incredible experience! Powered by over 2,000 volunteers, 350 participating authors and over 130,000 visitors, this Festival celebrates our love of books and stories, and I'm so grateful to have had the chance to be part of it.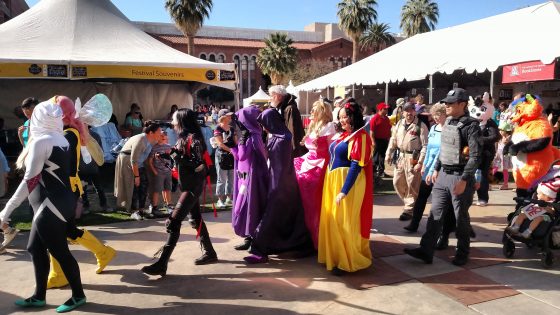 From the moment I stepped onto the Mall area at the University of Arizona, I was blown away by the size and diversity of this event, which is the third largest book festival in the US. Plus, the people-watching was great, with lots of interesting — and famous — people and 'characters!'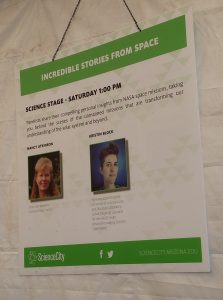 The two events I participated in were panel session discussions, and again, both were wonderful experiences. On Saturday, the session was titled "Incredible Stories From Space" (I was really excited they used the title of my book!) and Kristin Block from the HiRISE (High Resolution Imaging Science Experiment) camera on board the Mars Reconnaissance Orbiter mission and I talked about various robotic missions going on in solar system and beyond and the importance of exploration. While I interviewed Kristin for my book, this is the first time we had met in person. Getting to know her was really great, as she is really a wonderful person and engineer. The moderator for our panel was professor, astronomer and author Chris Impey.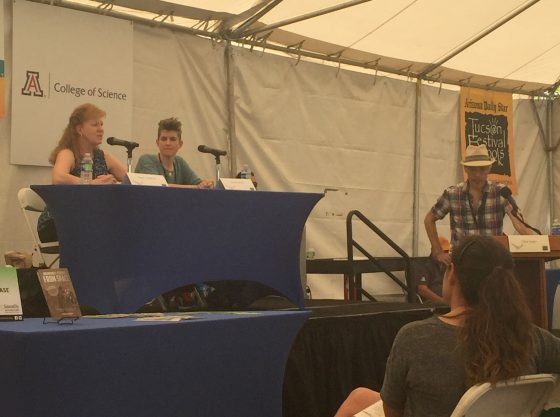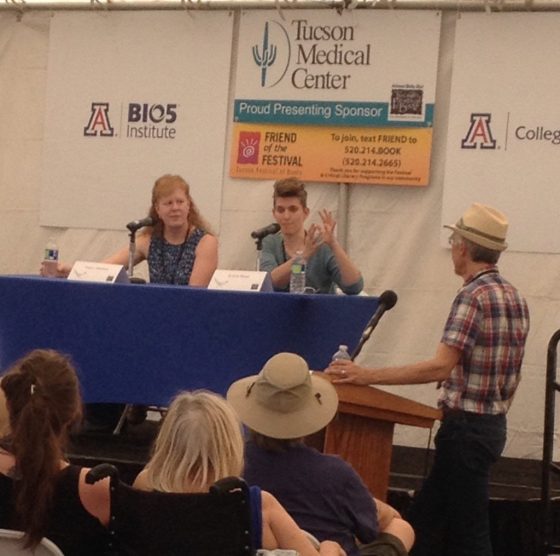 For the session on Sunday, I moderated a panel called "Women Writing About Women in Science," and again teamed up with Kristin Block, as well as two incredible authors: Nathalia Holt, who wrote "Rise of the Rocket Girls: The Women Who Propelled Us from Missiles to the Moon to Mars," a New York Times Best Seller about the women who served as human computers for the Jet Propulsion Laboratory, and Julian Guthrie, author of "How to Make a Spaceship: A Band of Renegades, an Epic Race, and the Birth of Private Spaceflight," which tells the compelling story of the Ansari XPRIZE to spur commercial spaceflight.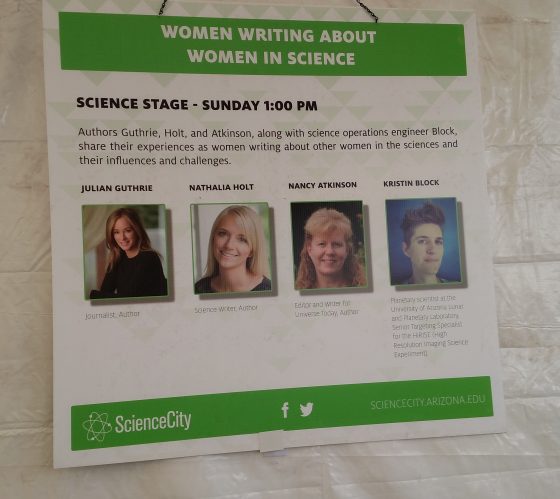 Superstar #women #science #writers panel with @MarsMaven @NathaliaHolt @JulianGuthrie & moderator @Nancy_A at @TFOBScienceCity #TFOB 🌠 pic.twitter.com/RPXBIojdfb

— Action Scientist (@geoffnotkin) March 12, 2017
Just to be able to meet these two fellow authors and hear about their experiences in writing their books was great, but it was especially exciting to be part of the panel and book signing with them. I highly recommend each of their books. As I said in the introduction to the session, the storytelling by Nathalia and Julian is absolutely impeccable! You start reading and you can't stop, as their words draw you in to the stories of these amazing, people who were doing things that had never been done before. The way they write makes readers feel like very privileged flies on the wall, watching as history was being made in space flight.
Of course, I was mostly in the "Science City" section of the Festival, and it was a great opportunity to look through a solar telescope, participate in lots of fun science activities and I also took a tour of the University of Arizona's Richard F. Caris Mirror Laboratory, where they are currently making the telescope mirrors for the Giant Magellan Telescope in Chile.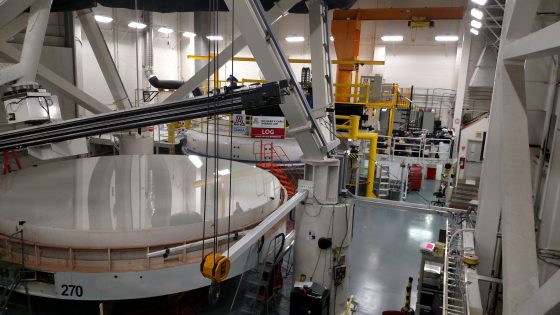 I also had the opportunity to meet other people attending the Festival — some of them I have 'known' for a long time from online interactions. People like Geoff Notkin (of Meteorite Men and Action Scientist fame), planetary astronomer Alessondra Springmann, fellow Solar System Ambassador Bryan Shumaker, and I even met the executive director of TFOB, Marcy Euler — thanks to the happy accident of her husband, Tom, sitting next to me at lunch. And I'm very grateful to everyone who came up and introduced themselves as long-time readers of Universe Today or people who said they have enjoyed my book.
I also loved visiting Tucson for the first time, and was able to stay with my childhood friend Dawn, her husband Brent and her wonderdog Teddy. Dawn and I have known each other all our lives, as we grew up together, living on our adjacent family farms in North Dakota. Dawn came up with the term that we are each others' "first best friend," which I think is most endearing sentiment ever!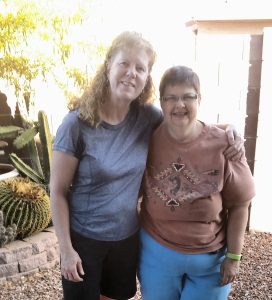 Dawn works in the Tucson school district and she arranged for me to talk with students in 5th and 2nd grades, at two schools, Wheeler and Morgan Maxwell. The kids were awesome and asked great questions!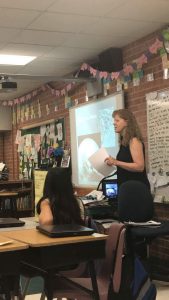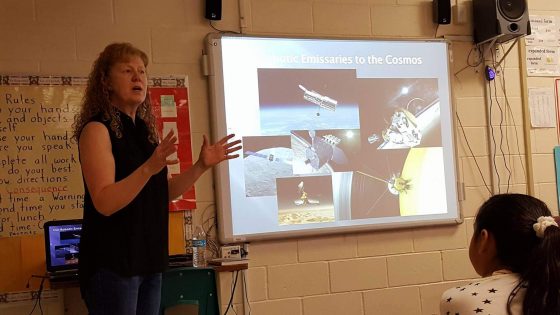 The best part was when a student presented me with a picture she had drawn during my talk, plus she also took notes — which is really impressive for a 2nd grader!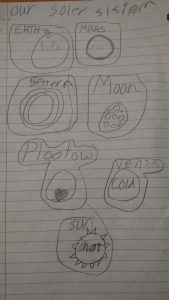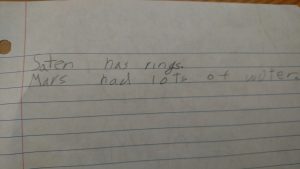 I also had the chance to meet with the team at the HiRISE camera, many of whom I interviewed for the book, and also visited the science headquarters for the OSIRIS-REx mission. The spacecraft launched last summer and is on its way to asteroid Bennu. It will bring a sample of the asteroid back to Earth in 2023.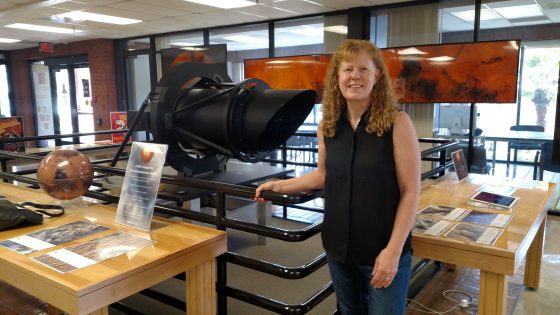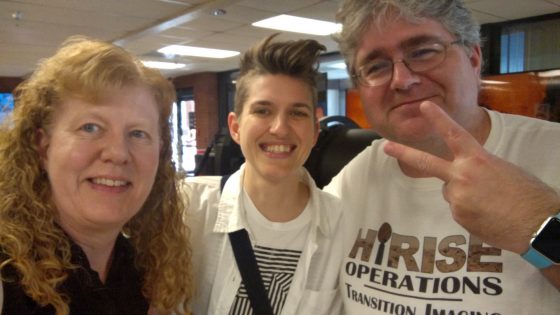 This entire trip was an absolutely amazing experience, and I know I need to come back to Tucson to see all the things I couldn't fit in this trip, such as touring the various observatories nearby. It would be exciting to be at the ORSIRIS-REx headquarters as the spacecraft reaches asteroid Bennu in 2018. And I hope to be able to attend the Tucson Festival of Books again, too … a great event!