10 Years of Keeping Track of the Universe (Today!)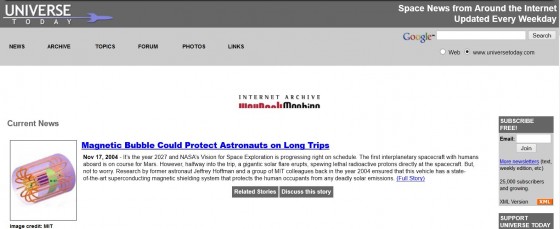 Today is an important milestone for me, personally and professionally. 10 years ago today I wrote my first article for Universe Today. The rest, as they say, is history.
How this English Major became a science writer is a bit of a long story, one to maybe tell another day. But let's just say that 15 years ago, if you would have told me I'd be a writer and then Senior Editor for a well-known space and astronomy news organization, I would have said you were crazy. The path of life can be surprising and unexpected – but yet totally fulfilling — with people sometimes unknowingly influencing your steps.

Even though there were (and still are) so many great science writers out there, Universe Today publisher Fraser Cain somehow believed in an unproven writer back then, and I'm forever grateful.
My first article for UT was a plum assignment. Fraser asked if I'd be interested in interviewing former astronaut Jeffrey Hoffman about his research into using superconducting magnetic technology to protect astronauts from radiation during long-duration spaceflights.
Um… let's see, talk to an astronaut about possibly overcoming one of the biggest hurdles in human spaceflight. Yep, I was all in! While the article generated a lot of interest (and Hoffman ended up using my article in one of his reports for his NASA Institute for Advanced Concepts research) ultimately, after a couple of years, Hoffman and his team realized the technology didn't pan out.
Since then, I've written 5,344 more articles, according to UT's WordPress tally. I wrote sporadically for UT at first, and in the fall of 2007 Fraser convinced me to come on board at about 50% time, and in the spring of 2008 I started full time. Again, I'm not sure what Fraser saw in me, but I'm indebted. I don't remember when Fraser decided I needed a real title, but at some point I became Senior Editor.
My tagline for this personal website is "Just tryin' to keep track of the Universe…" and usually I've been so busy keeping track of it for Universe Today that nancyatkinson.com is woefully sparse. In fact, I couldn't remember my login info so I could write this post!
Thanks to all the wonderful writers I've worked with, other fellow journalists who I've learned so much from, all the scientists (and more astronauts!) who have patiently answered all my questions, all our readers who have supported Universe Today, those who have written me, and left comments — good, bad and constructive — on my articles.
But special thanks to Fraser for believing in me and giving me a shot at living the dream.
And there's also this other great story about how Fraser and I only met face-to-face for the first time in August of this year (2014). The wonders of the internet!